The Early Years – Royal Air Force Service
G-PSST was originally built for the Royal Air Force as a mark F.4, XF947, back in 1956. Part of the first production batch of F.4s, XF947 was initially delivered to No.5 Maintenance Unit at Kemble in Gloucestershire before entering active service with No.3(Fighter) Squadron at RAF Geilenkirchen, Germany, as part of 2 ATAF (Allied Tactical Air Force). After a short period of time she was re-allocated to 229 Operational Conversion Unit at RAF Chivenor in Devon.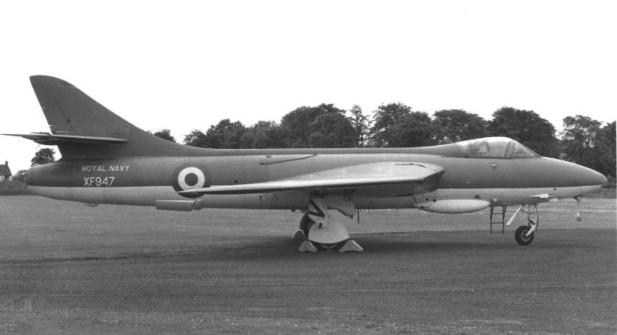 Service with the Royal Navy & Swiss Air Force
When XF947's operational career with the RAF was over, she was transferred to the Fleet Air Arm at Arbroath (HMS Condor) as a Ground Instructional Airframe (number A2568) before being classed surplus to requirements and placed up for disposal.
So it was that she was purchased by Hawker Siddeley Aviation in 1971 as G-9-317 for conversion to a Mk58A as part of a contract for the Swiss Air Force.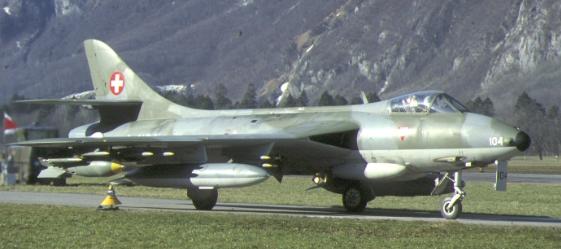 Re-serialled as J-4104, she was delivered to the Swiss Air Force on 2nd February 1972 and spent most of her remaining military career as a target tug carrying the Swedish MBV-2S winch which was carried under the starboard wing.
 Private Ownership
In 1996 J-4104 was retired from military service for a second time, was sold to a private owner and ferried to the British Aerospace airfield at Dunsfold in Surrey, with a total of just 1659 hours on the airframe!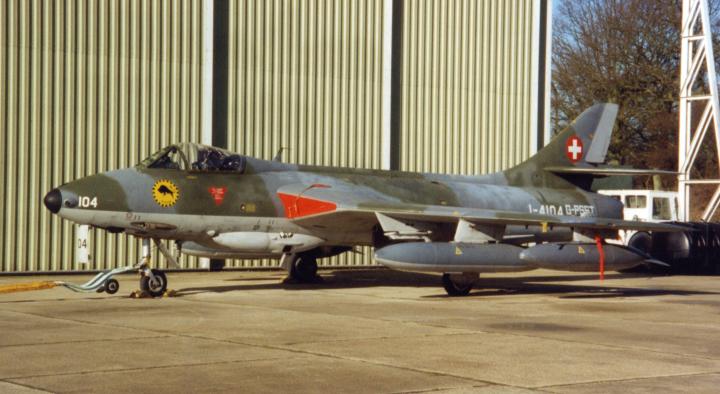 In 1997 she was acquired by Jonathon Whaley's company, Heritage Aviation Developments Ltd, registered as G-PSST and was ferried across to Hurn Airport near Bournemouth to undergo restoration by Jet Heritage Ltd. Restoration was completed in mid-'98 and she was towed across the airfield to AIM Aviation for surface finishing at the end of the year. This was completed in January 1999 and she looked then just as you see her today.