Jonathon "Flapjack" Whaley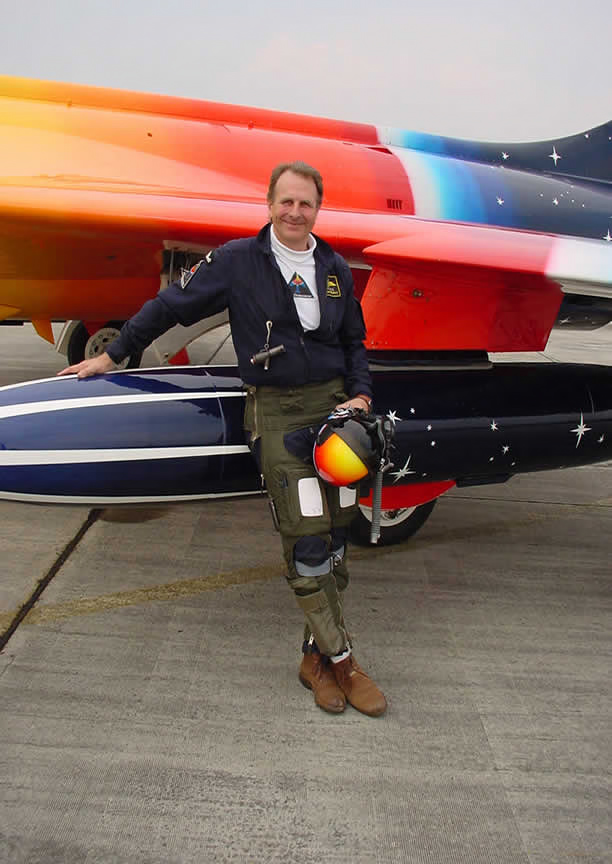 I was born in 1948 and my father was a Yorkshireman who served with the Fleet Air Arm as a Royal Naval Aeronautical Engineering Officer during World War II. His passion for everything aeronautical was passed on to me and I started my flying career when I joined the Royal Navy in 1965 at the age of 17.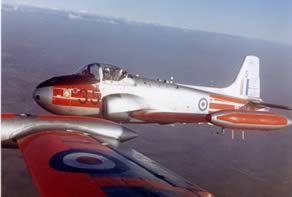 Following Officer Training at Dartmouth, during which I was given ten hours of flying experience in the Tiger Moth, I was posted to RAF Linton-on-Ouse and No.1 FTS for initial flying training on the Jet Provost Mk3 and Mk4.
 After gaining my 'Wings', I progressed to advanced flying training and my first experience of the Hawker Hunter at RNAS Brawdy in South Wales. This was with 759 and 738 Sqns and it was with the latter, flying the Hunter GA11, that my addiction to the aircraft really started.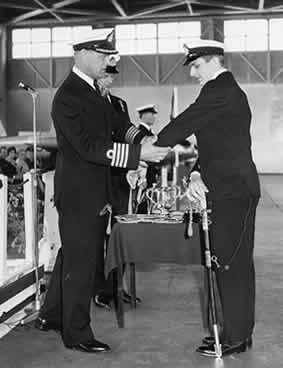 My operational flying training took place at RNAS Yeovilton, flying the Sea Vixen FAW2, followed by my first front line posting with 899 Sqn, embarked on HMS Eagle. This tour took me around the Mediterranean and across the Atlantic to the East coast of America
This photo shows me landing back on board HMS Eagle, 1¼ hrs after losing my canopy half way down the catapult!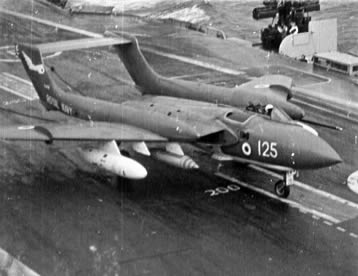 I utilised an "enthusiastic" approach to combat flying and it soon led to trouble when my use of landing flap in the tight corners of ACM (air combat manoeuvres or dogfighting) resulted in over-stressing two sets of Sea Vixen flaps. Apart from gaining me the nick name "FLAPS", my then Commanding Officer, the late "Dusty" Milner, ensured that I became an expert on the installation and mechanical operation of the Sea Vixen Flap system!
I then joined 890 Sqn for a brief period before undergoing training as an Air Warfare Instructor (AWI) with 764 Sqn at RNAS Lossiemouth. Just before I departed for Lossie, I married Annie and, three months after our marriage, I came home to tell my 18 year old bride that I was off to sea for eleven months!
I rejoined 899 Sqn and HMS Eagle (fresh from a refit), for what was to be her last deployment. It would also be the last operational tour for a Sea Vixen Squadron. This cruise took us to South Africa, the Far East, Australia and New Zealand and, returning with all aircraft flaps intact, I converted to the F-4K Phantom with 767 Sqn.
But dark days loomed for the future of fixed-wing flying in the Fleet Air Arm. As a cost cutting measure 892 Sqn moved to RAF Leuchars, while I opted to stay at Yeovilton, joining the Naval Flying Standards Flight (NFSF) as the AWI on the Hunter.
This photo of the GA11 shows an unauthorised simultaneous firing of two pods of 24 x 2″ rockets, possible only because this aircraft was incorrectly wired.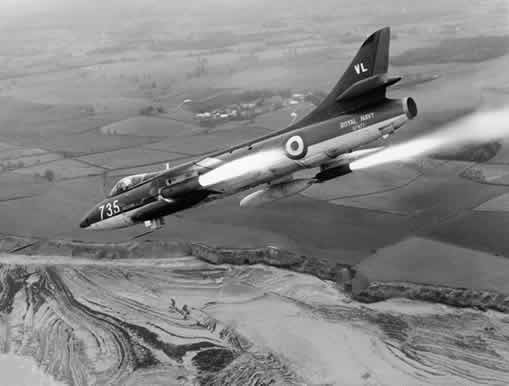 I still managed to fly the Phantom however, completing test flights on aircraft undergoing modifications at Yeovilton. One such flight involved flying out of Lee-on-Solent from a runway which was actually shorter than the Pilot's Notes stipulated. As I recall, the aircraft was clean, with minimum internal fuel. We did reach 40,000ft but didn't get as far as the coast of the Isle of Wight however, closing the throttles and not opening them again until we were downwind to land at Yeovilton. My log for the flight was eight minutes!
On another flight, I wanted to see if a clean F-4K really could do the advertised Mach 2.2. We performed a bunt, pull, bunt profile, topping out at over 60,000ft and reaching Mach 2.0 or 1214Kts TAS. We also burnt all of the paint off all the aircraft's the leading edges and this was an aircraft that was fresh out of the paint shop!
 In order to fill my whole week with flying I took up gliding and glider towing but, in 1973, in the face of the threatened end to the Fleet Air Arm and the Government's intention to take away my toys and even worse, give them to the RAF, I decided to leave the Royal Navy.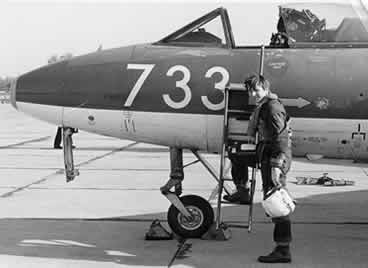 I joined my father's engineering based company, which had no connection with aviation, but withdrawal symptoms quickly set in and led me to try my hand at competition aerobatics. I passed from Beginner to Unlimited Class in two seasons, picking up a pair of championship trophies on the way. In hindsight, the Beginner and Intermediate levels were the most friendly and fun; with all pilots mucking in to help one another. Once the higher levels are reached, the need for a cold, focused, competitive approach becomes an increasingly important aspect.
I started competing in the CAP 10B and also taught aerobatics in the same aircraft before buying Tony Bianchi's CAP 20 LS – G-BIPO. This proved itself to be a satisfactory mount for Intermediate and Advanced competitions but was outclassed by the new Extra 230 in the Unlimited class. Out financed, (Annie "You want to spend HOW MUCH on a SINGLE seat aircraft?!?!") I gave up serious competition aerobatics.
During this time I had also started display flying and also television and film work. Among my film and TV credits are "Bugs", "Born to Ride", "Indiana Jones and the Last Crusade" and "The Mummy".
 At the last count, my logbook includes over 120 aircraft types from a Bleriot to the Russian MiG-29 and Su-27 Flanker. Display aircraft include the Bleriot, Manning Flanders, Fokker Eindecker, Sopwith Camel, Morane Saulnier "N" Type and 230, Stampe, Yak11, Fiat G46, Spitfire and Hawker Hunter of course.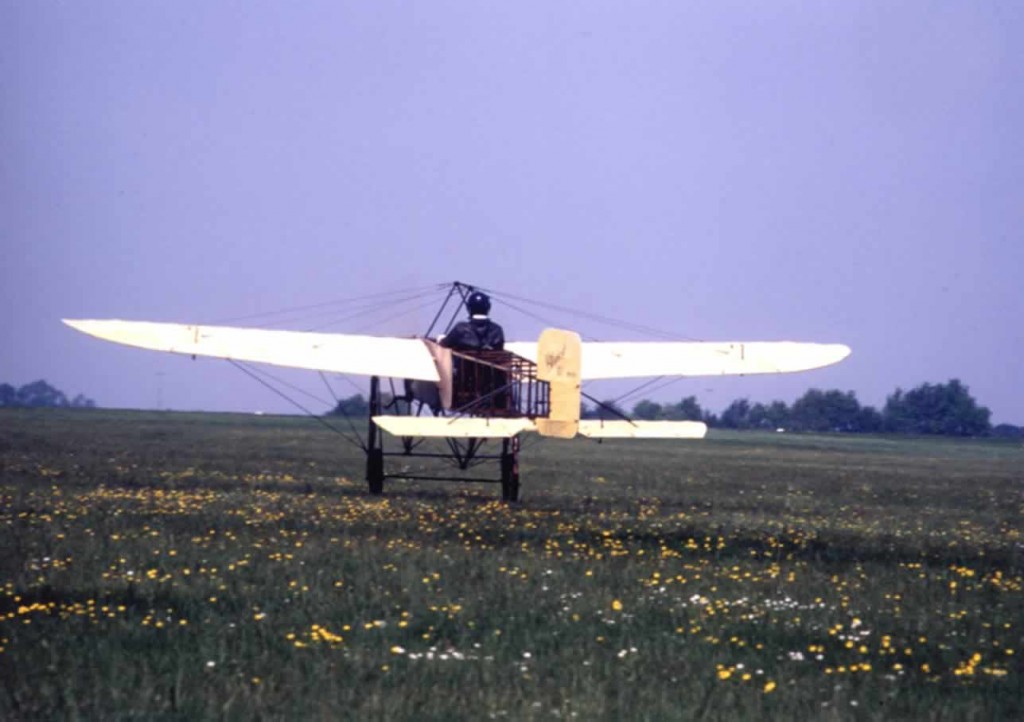 When people ask me what my favourite aircraft is, the answer will always be the one I have yet to fly! My most enjoyable flights have been those where I've been asked to fly an aircraft for which there are no pilot's notes and no one to offer advice.
Annie and I now have two grown up children and she is also an accomplished helicopter pilot, having flown, apart from the normal types such as Jet Rangers and Hughes 500, the Russian Mi-2, Mi-8 and giant Mi-26 Halo helicopters. I hold American and English licences for single and multi-engine land and seaplanes and, with a friend, ferried a Piper Nomad (an Aztec on floats) from Toronto, Canada to Anchorage, Alaska. The Nomad was operated by Kenai Fjord Outfitters in Alaska, with whom for some light relief, I spent time flying floatplanes. My friend then wanted to move the Nomad to warmer climes, so in 2002 he and I made an epic flight from Anchorage, Alaska, to Winterhaven, Florida. All that distance and only with landings on water. The events during that trip have the makings of a half decent book and we, and others, agreed we had earned our Bush Pilot's Wings!
In 1996 I received a phone call asking if I would be interested in buying one of ten shares in a two seat Hunter which was to be based at Bournemouth with Jet Heritage. A short while after this initial phone call I found myself the new Managing Director of Jet Heritage Limited and was overseeing the set up of the Jet Heritage Museum, now known as The Bournemouth Aviation Museum.
That two seat Hunter T.7 was G-VETA and was that in which I started my Hunter display flying. I also flew the famous red Hunter F.4 G-HHUN in which John Davies later tragically lost his life.
While at Jet Heritage, Heritage Aviation Developments Ltd came in to being and acquired a single seat ex-Swiss Air Force Hunter J-4104. This received the Jet Heritage treatment which included an electric start installation and, thanks to sponsorship by PRC-DeSoto International and Aim Aviation (Jecco) Ltd, her current paint scheme. In 1998 I decided it was time to move on and I left Jet Heritage and moved to Kemble while the Supermarine Swift F.7 I had also acquired, moved to RAF Scampton. In the autumn of 2004 I moved to Exeter for the winter where the Hunter Flying Club took over the maintenance and, more recently, followed them to the St Athan in South Wales.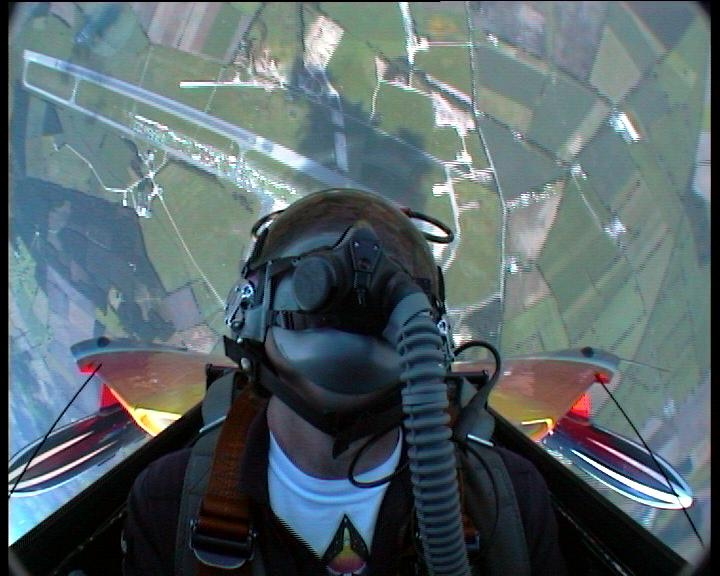 If you'd like to see Miss Demeanour at a particular airshow…..CONTACT THE AIRSHOW ORGANISER OF YOUR CHOSEN EVENT AND DEMAND HER APPEARANCE!